Paul Makin :: Announcer - 'Makin & Eggs for Breakfast' - 7am to 10am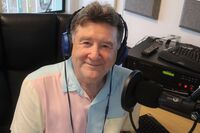 Paul has been in the media for over fifty years with diverse expertise in radio, television, feature films, corporate videos, and voice-over projects. Starting off as a Cine-Cameraman for Channels 7, 9 and WIN 4 Wollongong, his foray into Journalism happened in the Seventies at Radio 5KA in Adelaide where he was a senior member of the Newsroom. He then headed to Sydney where he hosted the highly rated Sunday morning program Nightwatch on Radio 2UE and was the first reporter to arrive on the scene at the Granville Rail Disaster in 1977 where for 48 hours he broadcasted to the nation from the scene.
Paul was one of the Senior Journalists on the top-rated program Willesee at 7 on the Seven Network, where he became a national media identity. After leaving that program Paul went on to host the national TV game show $50,000 Letterbox while also working in Melbourne radio. At that time, he was also acting in TV shows like Cop Shop and The Flying Doctors as well as stage shows.
At radio station 3UZ he found himself at Newport Rhode Island for Australia's successful tilt at the Americas Cup and hosting the radio stations top rated Sunday morning show Newsbeat.
In recent times Paul has been behind the microphone at radio stations 2GB, 2UE and ABC News Radio in Sydney, Radio 5AA in Adelaide and has hosted the top rating Today Tonight program on Channel 7 Adelaide, before establishing FAB FM in 2018 with his wife Marion in Port Douglas. Now his passion is based within the Douglas Shire and a new chapter with Douglas FM.
Dave (Barney) Barnett :: Announcer - 'Barney in the Morning' - 10am to 12noon
Gary (Gazza) McIlroy :: Announcer - 'Afternoon Gazzamataz' - 4pm to 6pm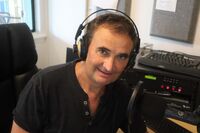 Gary 'Gazza' McIlroy moved to Port Douglas with his wife Alison in 2018, where he joined FAB FM and entertained the shire with his radio show 'Gazzamataz'. Previously, Gazza presented an afternoon radio show across NQ and built up a huge following. During this time, he hosted many FNQ events, including Feast of the Senses, the successful Banana Split World Record attempt, the Cardwell UFO Festival, Harvey Norman Kick Challenge and Cassowary Coast Relay for Life. Prior to coming to Queensland, Gazza was Morning Presenter and Producer on Plains FM 96.9 in Christchurch, NZ. He also presented a vintage soul, funk and reggae show on Saturday evenings and co-hosted the NZ Radio Award winning sports talkback show 'A Belch on Sport'.
Gazza's radio career started in 1985 at the age of 18, on Radio St Helier, a hospital radio station in South London. In 1987 he moved to Community Development Radio 86FM, based in Shepherds Bush London, on a project focused on bonding different ethnic communities throughout the Greater London region. He also presented on several other alternative stations, some of which had a significant influence on the direction of FM radio in the late 80's. By the 90's, he had taken up a regular slot on WNK 103.3FM, London's first fully legal black music orientated station. Gazza's next move was to another new London station, Choice FM.
For many years Gazza was DJ'ing around London in pubs and clubs entertaining the punters with a wide selection of music from House to Rock and Roll, from Trance to Pop until he made the life changing decision to move 'Down Under'. He now looks forward to being the afternoon 'Jock' on Douglas FM.