Gary (Gazza) McIlroy :: Breakfast Show - 6am to 9am Mon-Fri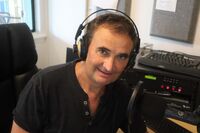 Gazza kicks off the day at Douglas FM with his very entertaining Breakfast Show including news, weather and music. Gary moved to Port Douglas in 2018, where he joined FAB FM and entertained the shire with his radio show 'Gazzamataz' after having presented an afternoon radio show across NQ from Innisfail. During this time, he hosted many FNQ events, including Feast of the Senses, the successful Banana Split World Record attempt, the Cardwell UFO Festival, Harvey Norman Kick Challenge and Cassowary Coast Relay for Life. Prior to coming to Queensland, Gazza was Morning Presenter and Producer on Plains FM 96.9 in Christchurch, NZ. He also presented a vintage soul, funk and reggae show on Saturday evenings and co-hosted the NZ Radio Award winning sports talkback show 'A Belch on Sport'.
His radio career started in 1985 at the age of 18, on Radio St Helier, a hospital radio station in South London. In 1987 he moved to Community Development Radio 86FM, based in Shepherds Bush London, on a project focused on bonding different ethnic communities throughout the Greater London region. He also presented on several other alternative stations, some of which had a significant influence on the direction of FM radio in the late 80's. By the 90's, he had taken up a regular slot on WNK 103.3FM, London's first fully legal black music orientated station, and then with Choice FM.
Paul Makin :: 'Makin In The Morning' - 9am to 12noon Mon-Wed-Fri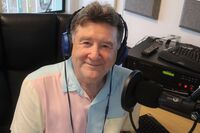 Paul has been in the media for over fifty years with diverse expertise in radio, television, feature films, corporate videos, and voice-over projects. Starting off as a Cine-Cameraman for Channels 7, 9 and WIN 4 Wollongong, his foray into Journalism happened in the Seventies at Radio 5KA in Adelaide where he was a senior member of the Newsroom. He then headed to Sydney where he hosted the highly rated Sunday morning program Nightwatch on Radio 2UE and was the first reporter to arrive on the scene at the Granville Rail Disaster in 1977 where for 48 hours he broadcasted to the nation from the scene.
Paul was one of the Senior Journalists on the top-rated program Willesee at 7 on the Seven Network, where he became a national media identity. After leaving that program Paul went on to host the national TV game show $50,000 Letterbox while also working in Melbourne radio. At that time, he was also acting in TV shows like Cop Shop and The Flying Doctors as well as stage shows. At radio station 3UZ he found himself at Newport Rhode Island for Australia's successful tilt at the Americas Cup and hosting the radio stations top rated Sunday morning show Newsbeat.
In recent times Paul has been behind the microphone at radio stations 2GB, 2UE and ABC News Radio in Sydney, Radio 5AA in Adelaide and has hosted the top rating Today Tonight program on Channel 7 Adelaide, before establishing FAB FM in 2018 with his wife Marion in Port Douglas. Now his passion is based within the Douglas Shire and a new chapter with Douglas FM.
Jake Black & Adrian Bannerman :: Saturday Sports Show - 7am to 9am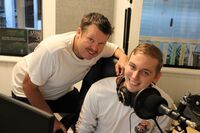 Jake & Banners on the Saturday Morning Sports Show are kicking goals. 19-year-old Jake Black was only 18 when he took over the show on his own but was thrilled when Adrian Bannerman agreed to join him in the studio to do the two hander. Jake is like a superhuman computer when it comes to statistics and can rattle them off without notes "He's phenomenal" said Banners "He just pulls them out of his head, so you've got to be on the ball to keep up with him" he said. Banners himself is a sportsman in his own right with stints at the Port Douglas Reef Raiders and other sporting clubs in the Shire.
Rita Merrick & Jillian Hawkes :: Mornings 10am to 12noon Tue & Thur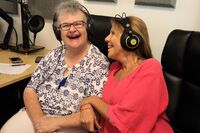 'Rita and Jilly', a pair of gregarious gals, can be heard between 10am till Midday on Tuesdays and Thursdays.
Rita Merrick is well known for her public speaking skills with the CWA in Port Douglas and continues to stack her trophy case with awards. Being a radio announcer comes naturally to Rita who selects all the music for the show. She originally hails from London but followed the love of her life (Peter) to Port Douglas and has now set up base here "I love it and I'm certainly learning all about Australia and many of the singers like John Farnham and Jimmy Barnes, it's a wonderful learning experience," said Rita. Rita Merrick has many strings to her bow including working for highly respected medical specialists in London from her home in Port Douglas.
Jilly is Jillian Hawkes who freely admits she had never picked up a mouse or worked on a computer before this opportunity came along. She's the panel operator for the duo which takes in the latest digital radio equipment, so it's been a steep learning curve for this upbeat Cooya Beach mum "Oh yes it's been a challenge working the switches and faders and microphones for our show, but it's also been rewarding in conquering my initial fears and coming out the other side" she said. Together they make a fantastic team!
Steve Barrett :: Douglas Conversations Wednesday 1pm & Sunday 3pm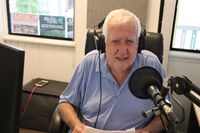 A brand-new program on Douglas FM on Wednesday afternoon with former real estate agent and financial guru Steve Barrett getting behind the desk to present an hour-long interview show called 'Douglas Conversations'.
Steve will talk to locals about their journey in life "Everyone has a story" said Steve "There are so many extraordinary people in the Shire who have done extraordinary things, but you never hear about it in the public space, but now you will" he said. Steve added that he's also keen to talk to young people in the Shire to find out about their aspirations for the future "It will also mean they'll be off social media for an hour and that has to be a positive thing" he laughed.
'Douglas Conversations' goes to air on Wednesdays at 1pm and repeated on Sunday afternoons at 3pm. All the interviews will also be available on the stations podcast page for listening to at a time of choosing.
Michael Joseph :: Thursday Afternoon 3PM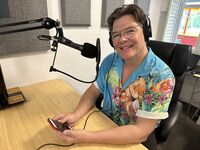 Michael Joseph moved from Sydney's Northern Beaches to the Douglas Shire over 20 years ago.
In addition to his base in Port Douglas, Michael lived in The Daintree Rainforest for over 12 years in a beautiful, Eagles nest self-sufficient home.
Michael was a Low Isles Preservation Society committee member and volunteer. A highlight has been able to stay overnight on the Low Isles so the caretakers could have a break.
In 2014 Michael trained in Ayurvedic Lifestyle with Deepak Chopra at The Chopra Centre in the USA. This training was a highlight in a long career in Massage, Pilates, Aerial Yoga, Classic Yoga Meditation and Ayurvedic health.
Michael has a keen interest in all thing's health, science, technology and loves to explore all these subject with his listeners.
David Starlyte :: Soul Talk Sunday 2PM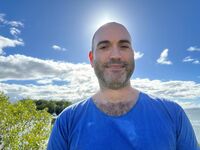 Slow down and relax to the tranquil tones of cosmic connectedness, introducing a new show with David Starlyte: dedicated to expanding consciousness, and nurturing deeper thinking.
Each Sunday, David explores the meaning of music and life. Soulful and expansive, he brings an array of insights from his life experience. As a qualified Naturopath, David has worked in 12 countries, at many of the leading wellness retreats in the world from Aman to Chiva Som, to Ananda, to Six Senses. He has a Master's degree in Mental Health, and is both an energy-intuitive and energy-healer, and meditation teacher. David is currently completing Applied Buddhist study at Nan Tien University. Locally, he offers therapeutic remedial bodywork as well as life-counselling sessions. In his free time, he loves to create colourful expressionist artwork from his Port Douglas studio.
Lay back, settle in to discover your inner self with David Starlyte, every Sunday at 2pm.